Yesterday was the grand debut of my Leeds craft market career. It wasn't a total failure, but it wasn't a total success. It was just too quiet. And too cold....I thought that my feet were going to fall off. I did make more than I spent on the pitch though and it was worth it just for the nice feedback people gave and a couple of good contacts which I made. I absolutely love the buzz of seeing reactions to my work especially as invariably people at least smile at them. Also usefull to see what sells well...my 50p bookmarks sold out and the cards were pretty popular too. There's a market in October in student-ville (Headingly) and I'm going to buy a 10 quid small stall there. The people who run the market I was doing are called "artsmix*" and they're moving their market indoors for the run up to Christmas. I think there are about 5 markets run by them between now and Christmas and I'm fairly sure I'll do at least 4 of them (possibly not the first indoor one as I'd like to gauge how busy I should expect it to be and also it's a bit early for the Xmas rush).
Here's a photo of Liam behind my stall...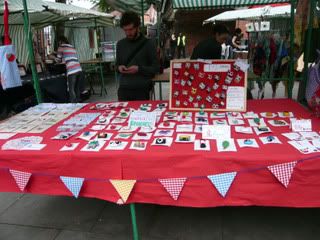 and another of the stall....