On Saturday I ventured over to Sheffield for "Last of the Summer" where I was kindly allowed to set up a stall. I sold a few brooches, loads of bookmarks as per usual, and a couple of cards and badge packs. It wasn't a roaring success compared to other stalls I've done, but it was exciting to branch out to a different city and to hear all the lovely compliments people had for my wares. Plus I love that I've affiliated myself with indiepop music and that people often ask if I was at indietracks....its great to be part of a little community of music lovers.
Someone included my little felt train brooch in a treasury :) http://www.etsy.com/treasury_list.php?room_id=11921
I finally finished a disposable camera which I bought for indietracks. There was a cute photo of the food van at indietracks on it....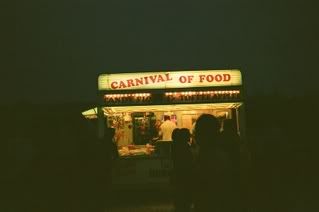 And one of Liam looking like a prisoner of war behind my stall on Saturday...
xxx