I'm back from a short cottage-sitting holiday in Scotland. It was idyllic...so so pretty. And we dog-sat the loveliest golden retriever. I'm a cat person but I completely fell in love with her. I feel inspired.
In badge news, I've decided to start making a couple of larger items with the hope that they'll fill a stall better and also make a bit more money. I sent off my cassettes and ipods to john at wiaiwya =) and the lovely Liz from The School wants me to send her some badges for her to sell at gigs she puts on in Cardiff. Woo! Here are some of the "mixtape" badges for wiaiwya...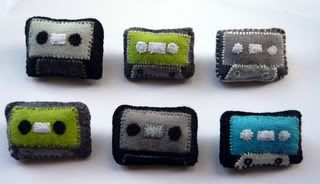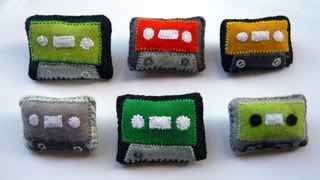 I've made some cards and I'm super super pleased with how they look all packaged up, I'll post photos at some point soon to show them off.
xx