Hurrah, two etsy sales in the last two days; nothing like a bit of custom to raise my spirits.
Handmade5! has been and gone, so now I can concentrate all efforts on amypanda global domination.
I've rented out a shelf space at BirdsYard, a lovely independent shop in Leeds, here's a snap of my shelf...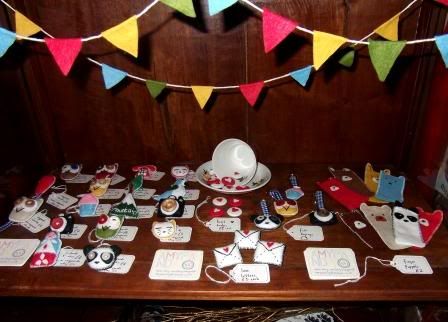 www.birdsyard.co.uk
So, aims... I've never quite got to the stage where I treat crafting as a serious part-time job, and thus I'm never quite organised. THIS MUST END. I have four new short term aims, and four more for the year
In the next two months:
- always have more than 10 items up on my etsy at one time
- sell 10 items by the end of March
- have at least 4 craft fairs booked, including the next handmade date confirmed
- blog or tweet or facebook or post on etsy about amypanda regularly
By the end of 2011:
- hit 100 sales on etsy (I'm currently at 49 so this will mean doubling my sales; I joined etsy years ago now so this is a big push)
- get a decent website up for handmade
- do at least 8 craft fairs over the year (indietracks definetely counts, hope I make it there again this year)
- join up again to some groups on etsy
Oh and I forgot the other BIG aim; keep track of all incomings and outgoings to finally establish whether or not I'm making any profit. Starting from now. No excuses.
lovely stuff
x x x x x x x x x x x x